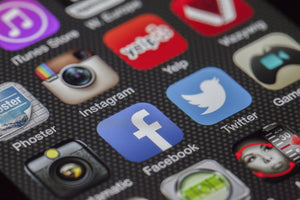 3 Apps that will Help Keep You Focused and Productive All Year Long
By: Alia Savage
The world is, unfortunately, full of distractions and things to steal our focus. Between my phone, Netflix, and putting a dent in my reason list, I find it hard to achieve everything I need to over a day. One of my resolutions for 2020 is to become more productive. There are several ways to approach this goal, but I've found, so far, that using various apps are helping me stay on track. Here are three of my favorite! 
Offtime App 
We could all benefit from taking a step back from social media. That's easier said than done, I know. Shopping, keeping in touch with family, and even meeting the demands for some jobs require access to our phone, which can tempt us to stray off towards Twitter or Instagram. Thankfully the Offtime App -- and apps like it -- exist. Offtime specifically allows users to block leisure apps and other distractions that come with a smartphone for a pre-set amount of time. It's stricter counterpart, Flip'd, even has safeguards in place that prevent you from disabling the app while it's in use. Perfect for those people who may be urged to cheat the system! 
DropBox 
If you work in a creative field, cloud storage is a godsend! But it's also great for people with more traditional jobs, who need it a keep to store their favorite files. Some USB drives are expensive and all are easy to lose, and cloud storage provides a great way to store files without taking up all of the space on our devices. There are several out there for you to choose from, but my tried and true favorite is DropBox. It's free, reliable and really easy to set up and to use. 
Headspace 
Productiveness isn't just about time management, it's also about mood. Sometimes, we shut down because we're bogged down with stress. Taking time to be mindful and indulge in a bit of meditation can help that. If, like me, you're not a meditation expert, the Headspace app is a great place to start! It allows you to engage in guided meditation or the duration of your choosing. Plus, it's free to use (though there are paid upgrades available).
These are the top three apps I'm using to stay focused and persistent this year. What apps do you use for productivity? Let us know by leaving us a comment below.
---