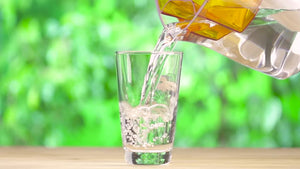 5 Fun Ways to Drink More Water
By: Sawyer Cecena
Whether you're a beach bunny or prefer to stay inside, everyone needs to stay hydrated during the summer. Studies have shown that not drinking enough water can cause dry skin, loss of energy, headaches, dizziness, low blood pressure, and even seizures . But many people struggle to drink the recommended 68 ounces a day. Plus, it can be tempting to skip a glass of water for something sweet like an iced coffee or smoothie. If your hydration habits need some help, here are five fun tips to help you out.
Try a Cool Tracker
Tracking your water intake is essential to make sure you're actually drinking enough. If you find a tracker you actually enjoy using, you'll be more likely to stick to it. If you're always glued to your smartphone, the app Plant Nanny gives you cute virtual plants that depend on your water drinking habits to grow. For those of you who keep a journal or a planner, try adding in a super cute water guide that you can fill in as you drink. Or, if you prefer to see your results immediately, you can buy one of these rad water bottles that have the liquid measurements built in.
Get Funky with Flavors
Adding fruit slices and herbs to your water is the perfect way to add some extra flavor. Keep it simple with lemon slices, or experiment with other things to see what gets your taste buds tingling! If you need some inspiration, check out this recipe for a non-alcoholic mojito water with mint, limes, and a little sugar, or this sweet combination of blueberry and oranges!
Use the Buddy System
Everything's better when you've got a friend to share it with. If you're having a hard time remembering to keep up with hydration, try getting a friend involved. Or, round up your whole squad and make it a group effort! Odds are, everyone will enjoy a few friendly reminders to keep each other on track. Plus, you can all enjoy a reward together when you've hit your hydration goals.
Stick with a Straw
Studies have shown that we tend to drink more when using a straw. This is because drinking through a straw creates a vacuum-like seal, which allows us to take in nothing but liquid during a nice, long sip. Whereas when we just chug straight from the bottle, we're actually swallowing a significant amount of air with our drink. So, if you want to hit your hydration goals quicker, consider adding a straw to your water bottle. Environmentally conscious? Check out these awesome, reusable, silicone straws!
Watch What You Eat
Of course, the best way to make sure you're drinking enough water is to…. you know, actually drink it. But, there are so many tasty treats available that can add a little extra hydration to your body. Veggies like cucumber, celery, tomatoes, and green bell peppers are all over 90% water. Or, if you're craving something sweeter, fruits like watermelon, carambola, strawberries, and grapefruit do the trick too!
Editor's Note: I use the app Plant Nanny myself, and it really really helps! I totally recommend checking it out and downloading it to your phone if you're struggling to drink more water!

---