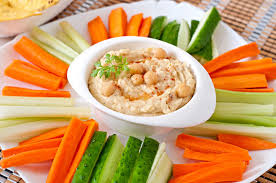 5 Guilt-Free Snacks to Bring to Work
By: Nicole Pyles
Nicole Pyles is a writer living in the Pacific Northwest. She currently works as a Blog Tour Manager for WOW! Women on Writing. Her writing has been featured in WOW! Women on Writing, Ripley's Believe it or Not, The Voices Project, and Restless Magazine. You can follow her on Twitter @BeingTheWriter.
What's the first thing you grab when you want a snack? Chips? Halloween candy? Pretzels? Something about the afternoon slump at work brings out our inner child that desires every sweet or salty thing within our reach. Rather than stock your desk with bags of chips, how about a healthier snack that satisfies your craving, fills you up, and keeps you healthy?
1) Hummus and Raw Vegetables.
The reason hummus is such a great snack is because it's filled with protein, nutrients, and essential vitamins. Pair up hummus with a raw vegetables such as carrots, celery, zucchini, or cucumbers and you have a nutritious - and delicious - snack. Plus, the crunch of veggies satisfies that crunch craving. While you can purchase hummus in the store, consider this easy DIY hummus recipe. 
2) Apple slices and nut butters.
You know the expression, "An apple a day keeps the doctor away," right? Well, next time you are packing an afternoon snack, take an apple with you. Apples are high in fiber and adding in a nut butter, like peanut butter, gives you that added protein. Make sure when you select nut butters you select a nut butter that has few ingredients, ideally only the nut itself (i.e. peanuts, almonds, cashews) and maybe a little salt. 
3) Ants on a log.
This is more than just a kid snack! It's for grownups too. Slice up some celery and slather on your favorite nut butter on top. Sprinkle raisins or maybe some cocoa nibs and you will have a healthy snack with a bit of extra sweet to give your taste buds a boost.
4) Homemade trail mix.
Before you buy the bulk bag in the store, consider making up your own trail mix that you can pack in your lunch. Consider buying these nuts for your trail mix: walnuts, almonds, cashews, and pistachios (shelled). Then toss in some dried fruit such as raisins or dried cranberries. For a little something sweet, toss in shredded coconut or dark chocolate pieces. It's an excellent way of getting protein while giving you the chance to get a little creative with your own trail mix combination.
5) Avocado toast.
It's more than just a millennial snack! Take a slice of your favorite bread and toast it. Then, slice an avocado in half and spread a layer of avocado on top. Sprinkle some salt and pepper on top and voila!  You have a high fiber and healthy fat snack that will tide you over until meal time.
Hopefully with these tips your next snack time will contain nutritionally sound choices and taste a lot better than leftover Halloween candy. Happy snacking!
---