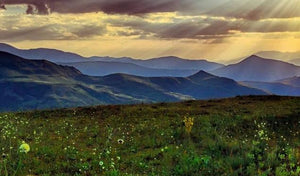 5 Things You Can Do to Help the Environment
By: Nicole Pyles
Nicole Pyles is a writer living in the Pacific Northwest. She currently works as a Blog Tour Manager for WOW! Women on Writing. Her writing has been featured in WOW! Women on Writing, Ripley's Believe it or Not, The Voices Project, and Restless Magazine. You can follow her on Twitter @BeingTheWriter.
Whether you consider yourself a tree hugger or you are just trying to remember your tote bags when going to the grocery store, most of us are trying to make an effort to help the planet. However, it can feel like an overwhelming task, but changing one small thing in your lifestyle can be the beginning of a large change. So, if you want to start doing more for the environment, consider a few of these changes in your life - ones that won't break the bank.
1) Go Plant-Based.
Making the decision to go vegetarian is a huge step, especially for the meat-eaters out there. So, take one small step towards a plant-based diet by replacing at least one meat-based meal a week with a plant-based meal. According to a study done by UCLA, going plant-based could reduce carbon emissions and cut down on the waste that appears in our oceans. In addition, replacing your body care items with plant-based items will have a positive impact on the environment as well. Tarabusi Creek offers plant-based soaps, lotions and more.
2) Cut back on the use of your car.
While the idea of walking instead of driving may not sound appealing, if everyone made an effort to cut down on the use of their car, it would have a significant, positive impact on the environment. So, while you start your new exercise routine for 2019, how about making an effort to walk more or take public transportation or even bike to work once a week? If it isn't possible to walk to work, recruit coworkers to carpool with into work. Even if you can only do this a few days a week, every bit of effort counts.
3) Avoid single use plastics, like straws and plastic grocery bags.
Single use plastics are things like straws, plastic bags, plastic utensils, and basically anything that is a one-time use only plastic item. If any of these items sound like familiar tools in your household, consider replacing them completely. Why? Unfortunately, plastic pollution in the ocean has been an issue since the 1970's and it's only getting worse. Make a start in your own household. Bring tote bags for groceries and buy re-usable straws.
4) Cut down on waste and recycle more.
Most of us have been hearing about recycling and the three R's - reduce, reuse and recycle - since grade school. Yet, how many of us have made an active effort to keep up with up with these R's into adulthood? If you are trying to embrace a more environmentally focused way of living, it's time to brush up on your recycling skills.  If you haven't recycled in a while, visit Keep America Beautiful and do a little research about appropriate recycling techniques. If you are feeling ambitious, approach your human resources department at work and have a conversation about inviting a city official who can talk to your team about recycling at work. Meanwhile, if you are trying to reduce waste, start by bringing reusable plastic containers to restaurants or other to go places where you are getting food.
5) Become more energy efficient in your home.
Being energy efficient means you are using less energy like coal, crude oil, and other fossil fuels that have damaging effects to our environment. Whether you or not you have the financial ability to purchase energy-efficient appliances, it is possible to make lifestyle changes that will make your home more energy-efficient, even on a limited budget. First, switch to LED light bulbs. They are better quality and also more cost effective. Reduce water usage by taking shorter showers. During the winter, avoid using your heater as much as possible, and if you do use your heater, keep the temperature at 58-60 during the evening.  In addition, avoid leaving your chargers plugged into the wall when you are not using them.
Remember, you can do more to help the environment than you realize. Changing one behavior can have a huge impact on the environment. Don't hesitate to start a conversation with loved ones, coworkers, friends, and neighbors and recruit them to joining you to making changes. The Earth will thank you!
Nicole is a writer and blogger living in the Pacific Northwest. You can read more of her work by visiting her writing portfolio or her book and writing blog The World of My Imagination.
---