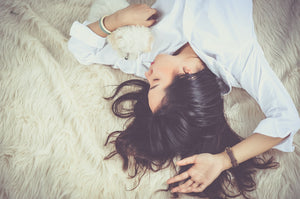 5 Tips to Stop Being so Busy
By: Nicole Pyles
Nicole Pyles is a writer living in the Pacific Northwest. She currently works as a Blog Tour Manager for WOW! Women on Writing. Her writing has been featured in WOW! Women on Writing, Ripley's Believe it or Not, The Voices Project, and Restless Magazine. You can follow her on Twitter @BeingTheWriter.
When was the last time you said no to an extra project or favor? When was the last time you relaxed for the sake of relaxing (and not for the Instagram photo op)? When was the last time you put down your smart phone or tablet, and let yourself be? If you find the side hustle is bringing you down, maybe it's time to give yourself a break. This is easier said than done, of course, but it's worth considering especially if your stress levels are out of control. Here's a few tips to keep in mind if you want to stop the hustle and start relaxing.
1) Don't multi-task during downtime.
We're all guilty of this one. If you find yourself checking work email while waiting for your dinner to arrive at the restaurant, it may be time to really consider how you actually let yourself relax. If you've carved out vacation time or downtime, let yourself get away, even if you have to start setting boundaries with the people around you.
2) Stop trying to do it all.
The best thing that you can do for yourself when you are trying to unwind is to stop doing it all yourself. What can you delegate to other people? Not all of us have an assistant at hand but hopefully there are people in our lives (or services) that can lend a hand to our busy lives. It may require a bit of trust and patience on your part, but it's an important step forward.
3) Say no.
Saying no is not rude. If you can't take on an extra project or volunteer work or favor, let someone know. This is an important step in setting boundaries around your mental health. We can't do it all, even if we desperately want to. You'd be surprised at how accepting people are of when we say no, too. So, it's time to get in the practice and say no like you mean it.
4) Think about what you spend the most time doing.
At the end of the day, think back to what you spent a lot of time doing. Realistically analyze what you can cut back on and what isn't adding to your life anymore. Think about what is adding stress to your life. Some things may require that you have some difficult conversations with people or start asking others in your life to take on more responsibility.
5) Schedule some "you" time.
No matter what's going on in your life, even if it feels impossible, schedule some "you" time. It doesn't need to be a large block, but take five minutes away from the stressors in your life and destress. Practice deep breathing. Let your mind take a moment to breath without racing around. Take a quick walk around the block and just take a moment. Best of all, if you can, take an hour for yourself too. If your brain is always on the go and always thinking of the next task, it's no wonder you are busy.
Of course, this can all feel easier said than done, but it's possible to take a long look at our life and figure out what needs to be cut out. In this side hustle society we're in, it's no wonder we're all so busy. Sure, some of it's a necessary part of life, but it doesn't need to be all the time. So unplug, disconnect, and breathe.
---