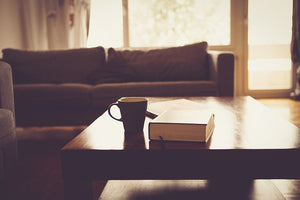 5 Ways to Feel at Home in your New Home
By: Nicole Pyles

Nicole Pyles is a writer living in the Pacific Northwest. She currently works as a Blog Tour Manager for WOW! Women on Writing. Her writing has been featured in WOW! Women on Writing, Ripley's Believe it or Not, The Voices Project, and Restless Magazine. You can follow her on Twitter @BeingTheWriter.
Did you know that moving is considered to be one of life's most stressful moments? It's right up there with heartbreak and starting a new job. If you are moving this weekend, I've probably made you feel a whole lot worse. Yet, even though it is incredibly difficult to move, it can also be hard to feel "at home." So, as you move in the last box into your new digs, here are a few ways you can make yourself feel right at home. 
Get your favorite room to relax in ready first.
Do you enjoy relaxing on the couch at night? Or maybe you enjoy taking a relaxing bubble bath? Whatever your place is that you love to kick back, focus on setting that room up first. Unpack everything that you need to make sure that room is ready for you when the day is done. 
Don't live in boxes.
Many of us are guilty of this when we move from one place to another, but make sure you are completely unpacked. You don't have to do it all in one night, but set a firm date on when you want everything unpacked. The last thing that will help you feel at home is to leave unpacked boxes.
Get to know your neighborhood.
When you've gotten all your furniture and boxes safe and secure in your new home, go for a walk. Getting familiar with your neighborhood is an excellent way to feel at home. Even if you've moved to a new home within a city you've lived in your whole life, it's still important to get to know your surroundings. This also gives you a chance to introduce yourself to neighbors and find hidden neighborhood treasures you may not have known about before. 
Make it your own.
Even if you've unpacked every box, there may still be a feeling that you aren't home yet. Start decorating a little bit. You certainly don't need to be an expert. Start small by adding your favorite flowers to the dining room table (yes, you can buy yourself flowers!). Go to a discount store and buy seasonal decorations that you can set on various tables. Make sure you hang artwork, if you have them. Get picture frames for some of your favorite portraits. Buy some new throws and accent pillows for any soft chairs you own. These small decorations can add a cozy and personal touch to your new home.
Spend time in every room.
Being in an unfamiliar home for the first time can take getting used to. Over the next few weeks in your new home, spend time in every room. Add some new memories to your new space. Invite close friends and close family over so they can add to the memories and the vibe of your new digs. 
These are all small, but essential steps to making yourself feel right at home in your new place. Moving is incredibly stressful, but don't let the stress of the move prevent you from making the most of your new place. 
---