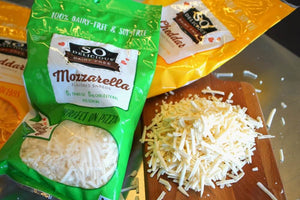 A Guide to Vegan Cheese
By: Sawyer Cecena
Who doesn't love cheese?! It's gooey, it's creamy, and it goes with just about anything from sandwiches to potato products, and everything in between. So, if you're totally missing cheese after a break-up with dairy, we understand! Luckily, there are some awesome alternatives out there that give you that same delectable, cheesy taste you love while still being 100% vegan!
Craving Some Classic Cheddar?
Whether you're looking to grill it or add it to some mac-and-cheese, the cheddar flavor is timeless. Luckily, cheddar also has the most vegan alternatives - from the more popular brands like Daiya and Follow Your Heart to the hard-to-finds like Violife or Bute Island. You can also find it in just about every form you could think of: shredded, wedged, sliced, you name it! Wayfair even makes an awesome cheddar flavored nacho cheese sauce that's perfect for your next Netflix binge.
Missing Out On Mozzarella?
Italian food just wouldn't be the same without mozzarella! So, if you're hankering for some vegan lasagna, you've got a few choices to pick from. Similarly to the cheddar, mozzarella is another popular flavor amongst the big brands. Daiya, So Delicious, and Follow Your Heart all have a shredded mozzarella product available. Trader Joe's also has their own version that is only available in their stores.
Can't Party Without Parmesan!
Going back to the earlier topic of Italian food… parmesan! It's practically a necessity! Unfortunately, there are only a few brands out there that make an alternative to this flavor: Go Veggie!, Parmela Foods, Parma!, and The Vegetarian Express. All come in a grated, sprinkle style that is ready to top off all your favorite pasta dishes. My favorite is the Go Veggie! Brand – but, make sure you're buying the one labeled "Dairy Free", as they have a similar product that is only lactose free but still contains milk.
Crazy for Cream Cheese?
If you're tired of the same old margarine on your morning bagels, why not try a vegan cream cheese instead? Just like with regular cream cheese, there are tons of different dairy-free flavors available for a taste test. If you're feeling fruity, you can find a strawberry flavor from Daiya or a blueberry from Heidi Ho Ne Chévre. Looking for a bit of a kick? Wayfare's Jalapeño or Violife's Hot Peppers have what you need. Or, if you're looking for a more classic taste, several brands including Kite Hill, Tofutti, and Go! Veggie have herb, chive, and plain flavors.
Searching for Something Else?
Don't worry if you didn't find what you're looking for on this list. There are still plenty of options out there for vegan alternatives of your favorite cheeses – including ricotta, gouda, American, pepperjack, and even bleu cheese! For more information on where to find the perfect cheese substitute for you, check out this more in-depth guide from PETA. Or, if all else fails, get creative and attempt to make your own! You never know what deliciousness you may cook up!
---
1 comment