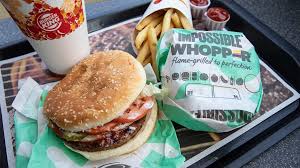 An Honest Review of Burger King's New Impossible Whopper
By: Sawyer Cecena
By now, everyone has heard the buzz about Burger King's new Impossible Whopper. The burger contains all the same fixings as the classic Whopper sandwich, except the beef is replaced with a plant-based patty. This is a huge step towards the inclusion of more cruelty-free alternatives in popular food chains, where vegan customers oftentimes find themselves having to fill up on fries and bland side salads. However, many are still skeptical of whether this burger is all that it's made out to be. After giving it a try for myself, here are some of my thoughts about the new Impossible Whopper.
Not Completely Vegan Friendly
While BK scores a point for their new vegan patty, they clearly still have some work to do. Luckily, I'd seen online that the Impossible Whopper still comes with mayonnaise, an egg-based condiment, prior to ordering. Make sure to leave that out of your order if you're looking for a meal that's entirely free of animal products. Thankfully, their buns are safe – so once you ditch the mayo it's smooth sailing! 
Watch for Cross-Contamination
Personally, I am not worried about my food being cooked in a kitchen that also cooks animal products. After all, I live with omnivorous roommates so even my kitchen at home isn't all vegan, all the time. But if you are concerned about this, you should know that the Impossible Whoppers are cooked on the same broiler as the other meat products Burger King sells. However, all hope is not lost – for you can ask them to cook the patty in the microwave for an option free of any cross-contamination.
Expectation vs. Reality
When it comes down to the big question of whether the Impossible Whopper is really worth all the type, I must give it an enthusiastic yes! I've always been a burger person, and the typical vegan alternatives of black bean or mushroom based patties just don't do it for me. While I'm super fond of the Boca brand patties, this burger really gave me that instant nostalgia of the burgers I ate as a kid. It tastes shockingly similar to the average beef-filled burger but without the cruelty. I (and the cows) give it three hooves up!
---