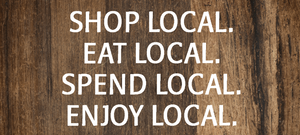 Buyer Etiquette: Purchasing from Small Businesses on Social Media
By: Paige Fowler
I'm a huge sucker for small artisan businesses. I love the idea of someone creating something from scratch with their own hands in the comfort of their home or workspace. I'm specifically a sucker for paintings, drawings, bath items, skincare products, and handmade jewelry, and I can honestly say I've spent at least $1,500 on these products from various craftspeople—so I've certainly been around the block.
I've noticed that in 2018, many creators, regardless of their medium, opt to sell on social media as opposed to selling in stores, at festivals, or on online shops. Social media selling allows creators to keep all their profit as well as promote themselves on a far-reaching platform.
But another aspect of social media selling—and arguably the most obvious aspect—is the direct and almost constant interaction with customers. While most sellers love interacting with their supporters, there are certainly downsides to this type of direct engagement: and from what I hear, one is dealing with rude customers. Although I personally don't sell anything via social media (I'm not much of a creative), I've heard horror stories from my favorite artists about their exchanges with rude and oblivious potential buyers. The distant, impersonal nature of online interactions seems to make people braver, and often less polite than they would be in person.
Although I'm certainly no expert in seller/buyer relations—nor am I the etiquette police—but below is a list of things sellers ask you not to do when interacting with them about their products:
1. Don't jump right in their DMs with "How much?"
This seems like something so picky and sensitive, but I promise it matters: remember to introduce yourself. Though part of me understands the straightforward, let's-get-to-the-point attitude, at the end of the day, it's just rude to not introduce yourself. In "real life," would you just plop your items down on the register without offering even a simple "Hello!" or "How are you?" to the cashier? Of course not—that would be impolite. Online buying is no different. Say hello!
2. Don't imply (or worse—blatantly state) that the item is "too much."
If an item is out of your budget, that's fine. If you think you can get something similar for cheaper, that's fine, too. But what's NOT fine is being rude to the seller or implying that their work isn't "worth" its cost. Countless factors go into a seller's prices: the cost of labor, supplies or ingredients, shipping, packaging, and more must all be accounted for. Keep in mind that at the end of the day, you have no idea what their bottom line is (and it's probably much lower than you think). People must also remember that a handmade, one-of-a-kind product is a luxury—we are not entitled to these items and thus shouldn't expect them to cost the same as mass-produced factory items with cheap ingredients and materials.
If you can't afford the item, don't ghost the seller! There's absolutely nothing wrong with saying something like this:
Alright! Thanks so much for the info, but I'll have to pass at the moment. Have a great day/rest of your night!
Thanks for letting me know! Unfortunately that's out of my budget, but I really appreciate your time.
Awesome—thanks for the info! I'll get back to you if I'm ready to purchase.
Okay! Sadly, this piece/item is out of my price range at the moment, but thanks so much for the info. Now I can budget for something similar—I love your work/products!

3. Don't try to hustle the seller for the lowest price.
This tip is plain and simple: while there's absolutely nothing wrong with taking advantage of sales, coupon codes, bundle deals, etc., don't jump in the seller's DMs trying to get the cheapest price. It's tacky and shows that you don't support the business: you just want the product.
4. Don't fall off the face of the Earth after the product has shipped.
Small sellers care. They want to know that your order arrived and that you're happy with it. Post pictures of your purchase online. Message the seller and let them know that you've received your item. These tiny courtesies are obviously not required, but they're certainly appreciated.
That's it! Sellers, what would you add to the list? Buyers, what have you been guilty of? (I'm definitely guilty of #1 and #4.) Sound off in the comments!
---
1 comment