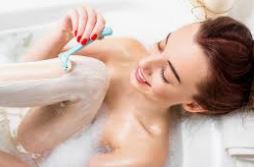 Do's and Don'ts of Hair Removal
There are millions of hair follicles all over the human body, which leave room for hundreds of thousands of hairs to grow to their liking. While body hair is completely natural, many people choose to remove the hairs not on their head via shaving, waxing, depilatories, or laser removal. It's even been discovered that the Ancient Egyptians used to shave their bodies with razors made of copper. Ouch! If you'd like to follow in their (hopefully less painful) footsteps, here are eight tips to make your hair removal a breeze.
Do
choose a razor that works for you. If you're suffering from dry, red skin after a shave, you should consider switching to a razor with three or fewer blades. Multiple blades can sometimes shave too deep into the skin, causing razor burn or ingrown hairs.
Don't
be
afraid to upgrade your razor. I don't know where I would be without the bikini trimmer from Gillette Venus! It's the only product I've found that can ensure a perfectly bare "down there" without any irritation. While there's nothing wrong with a normal, plastic razor, don't shy away from the battery operated or electric types if you feel like you're not getting a smooth enough result.
Do
let your hairs grow out before a wax. If there's not enough of a shag to snag, waxing treatments can be ineffective. So, let yourself go for a little longer than normal if you're planning on using this hair removal method any time soon!
Don't
get hot and heavy right before or after a wax. Heat is super irritating on our skin anyways. Before a wax, try to avoid the sun as much as possible and skip out on the tanning beds too. Waxes are already painful enough
without
a sunburn underneath. After your wax, stay clear of hot tubs, saunas, intense exercise, or hot showers to prevent burning atop the freshly waxed skin.
Do
test your depilatory cream on a patch of skin prior to a full shave. Whether or not you've used depilatories before, reactions can still happen – even just based on the location of where it's applied. Do avoid an unsightly (and potentially painful) mishap, always try out a little bit of your product the day before you intend to use it. If everything looks good to go after 24 hours, you're in the clear!
Don't
load up your skin with other products after using a depilatory cream. Deodorants, lotions, perfumes, and self-tanning products can cause some serious pain post-depilatory, even if they're unscented. It's best to let everything breathe for a good 24 hours after using this hair removal method. After that, you're free to resume your usual regimen and freshen up those pits!
Do
plenty of thorough research before choosing laser hair removal. It's important to choose an esthetician that is licensed. But, don't just stop your research there. Search for someone with great reviews who is reputable and highly qualified to ensure you get the best service possible.
Don't
ignore the post-treatment instructions given to you by your esthetician. Those instructions are there for a reason! General rule of thumb is to avoid the sun, saunas, and hot showers, and use any restorative gels given to you at the salon as needed.
Have you had any weird reactions or super successes with a particular method? Share it with us below!
---
1 comment