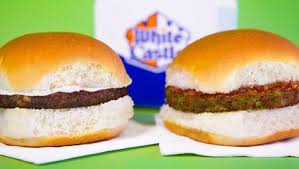 Eating Vegan at Popular Fast Food Chains
By: Sawyer Cecena
There's a reason why fast food chains are everywhere. They're quick, convenient, and are typically much cheaper than your average sit-down restaurant. But treating yourself with a trip through the drive-thru can come with an added struggle for new vegans who aren't sure what menu items are safe to eat or not. Check out this list below for some ideas of what to order next time you need an easy, vegan bite on the go!
Taco Bell
Remember the words "fresco style" next time you stop by this Mexican inspired chain. This means that you can sub dairy products like cheese, sour cream, and ranch for pico de gallo in items like the Crunchwrap or Spicy Potato Soft Taco. You can also ask for meat to be replaced by beans with any order. Or if you're in the mood for something simple, their Black Beans and Rice burritos come perfectly vegan safe for under $2! 
In-N-Out
Any California native knows all about the In-N-Out secret menu. This mysterious list also includes a sandwich called The Veggie – lettuce, tomato, and grilled onion between buns. Unfortunately, their buns are not vegan, but you can get around that by ordering The Veggie "protein style" on a lettuce bun. Don't forget the fries, because they're also safe to eat here!
Burger King
This popular burger joint has recently made headlines for the addition of the new Impossible Whopper. It's exactly like their regular menu Whopper sandwich exept the meat-based patty is replaced with the plant-based Impossible Burger. You can order this with fries or a side salad as either option is vegan safe. Just be sure to skip the mayo! If it's too early for a burger, you may also luck out with an order of their accidentally vegan French Toast Sticks. 
Hardees and Carl's Jr.
No matter what you call it in your state, these chains are a great go-to for all things potato. Their regular fries, criss-cut fries, hash brown rounds, and hash brown nuggets are all vegan! Select locations nationwide have also began offering Beyond Patties, another meat-free alternative, to sub for the meat patty in any burger on the menu. Otherwise, you also have the option to order the side salad without cheese or dressing.
McDonalds
Sadly, Ronald has yet to respond to the requests of vegans all around the world to include a dairy-free McFlurry to the menu. But if you're looking for something sweet, their apple pies are still a safe go-to! Sadly, the vegan options are limited beyond that. You can try a side salad without dressing, apple slices, or a bowl of the Fruit and Maple Oatmeal without cream if you're there for breakfast.
StarbucksStarbucks has made it pretty easy to veganize your favorites by offering almond, soy, and coconut milks as replacements to most milk-based drinks like the Ombre Iced Coffee or the Peppermint Mocha. Just make sure that you avoid anything containing whipped cream, java chips, caramel drizzle, protein powder, or cinnamon dolce. There are also several drinks that come vegan as is, like the coconut milk and strawberry Pink Drink, Matcha Lemonade, or my personal favorite – the Strawberry Acai Refresher. When it comes to food options, try the plain or sprouted bagels with avocado spread.
---