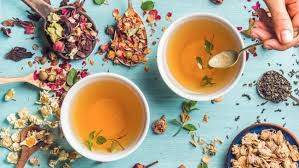 Five Benefits of Drinking Tea in the Morning
By: Nicole Pyles
Nicole Pyles is a writer living in the Pacific Northwest. She currently works as a Blog Tour Manager for WOW! Women on Writing. Her writing has been featured in WOW! Women on Writing, Ripley's Believe it or Not, The Voices Project, and Restless Magazine. You can follow her on Twitter @BeingTheWriter.
Love waking up to a cup of freshly brewed coffee in the morning? Well, hold onto your overly-caffeinated hats, because when you hear about the benefits of drinking tea, you may rethink that morning routine. Keep these five benefits in mind and reap the rewards.
1) Your brain will thank you.
Have an early morning meeting that you are stressing over? It turns out the combination of caffeine and the amino acid naturally found in tea, called L-Theanine, leads to improved brain activity. In a study conducted about the combination of the two's effects on brain and mood, the reaction time of participants in the study improved and brain activity was much faster. If you are ready to think on your feet and answer those questions rapid fire, then you'll want to brew some black tea.
2) It eases your stress. 
It seems like each day there's another reason to stress out. Whether it's due to personal stress or the stress of everything going on in the world right now, anything that can help ease that stress is a good thing. And tea does just that! A study conducted by the University College of London shows that black tea can reduce stress levels in the body. 
3) Tea can help fight cancer.
While the studies are a bit conflicting, and scientists can't seem to reach a consensus, tea has been shown in some studies to reduce the risks of cancer. For example, a study recently showed that drinking up to three cups a day of tea reduced the risk of breast cancer in women under 50. 
4) It's a mood booster.
In a study published in the Australian and New Zealand Journal of Psychology, there is a direct correlation between consumption of tea and depression risk. Basically, women who drank up to three cups a day, had reduced depression risks. Not to mention, green tea can help your brain gain more access to that natural mood booster - dopamine.

5) Tea can help with your seasonal allergies.
Although we are knee deep in the warm weather season, there is still a chance that you may be experiencing allergies this season. If that sounds like you, you may want to brew up some hot tea. Green tea has been discovered to help treat seasonal allergies. While this should not be your exclusive approach on handling the allergy season, it definitely wouldn't hurt to try. 
What are your favorite types of tea? Drop them in the comments below!
---