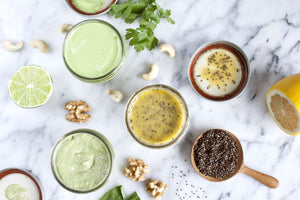 Five Kitchen Staples that will Make any Vegan Meal Better
By: Alia Savage
One downside of eating only a plant-based diet is that meals can be a little bland— unless you know how to spruce them up! Just like meat, vegetables benefit from good seasonings, herbs, and spices. Sure, salt and pepper might be enough for some people, but if you don't want to have to give up a life of variety, then you should keep reading! 
LIQUID SMOKE
There's nothing quite like grilled vegetables. Similar to roasting, grilling brings out the natural sweetness in vegetables that is hard to match, otherwise. It also infuses them with a natural smoky flavor. Unfortunately, the prep and cleanup time involved in grilling makes it hard to do daily. This is where liquid smoke comes in! Just a couple of spoonfuls over a pan of roasted veggies is enough to make them taste grill-fresh.
NUTRITIONAL YEAST 
Cheese is one of the food items that I miss the most, since going vegan. To date, it's been hard to find vegan cheeses that even come close to the milk-based cheese I spent most of my life eating. Until I tried nutritional yeast! Though I was first skeptical of the advice I'd found online, a sprinkling of nutritional yeast over a salad or inside of a pasta dish definitely gives me cheesy vibes. It's not a perfect substitution by any means, but it gets me through! 
PEPPERS. ALL THE PEPPERS. 
I'm so grateful that I outgrew my aversion to spicy foods as a child, because peppers, hot sauces, and aiolis, have been a lifesaver. I haven't eaten a single savory vegan dish that wasn't made better by a few jalapeno slices or a couple of shots of Sriracha! If you don't like quite as much spice like me, then you might want to invest in mild, or even, sweet peppers. You won't have as much kick, but you'll have just as much flavor.
CHIA SEEDS
Most vegans already get a surplus of vitamins and nutrients, but there's nothing wrong with giving your meals an extra boost. Chia seeds, which are packed full of the former plus tons of protein, can be eaten on their own or blended into soups, smoothies and other dishes. Whenever I want to supercharge my meals, I throw in a sprinkle or two of chia seeds. While chia seeds don't add much flavor, the nutritional benefits are unmatched. 
POULTRY SEASONING
It almost sounds like an oxymoron, but poultry seasoning is actually completely vegan. It's simply a blend of herbs and spices someone decided would make chicken and turkey taste good. Fortunately, poultry seasoning tastes great on veggies and grains, too! Like, seriously to die for! My personal favorite way to eat it is by sprinkling an ample helping over a pan of fingerling potatoes, squash and carrots. Though I haven't tried it myself, I hear it also gives vegetable soup and extra bite! 
These are just a few of the staples I keep stocked inside of my pantry. What herbs, spices, and other condiments do you just have to have? Share it with us below in the comment section!
---