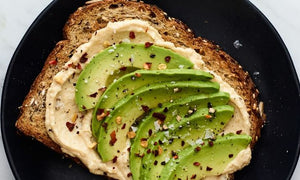 Five Quick, Fresh, and Delicious Vegan Snacks
By: Paige Fowler
Looking for a simple but filling vegan snack? Before you reach for those Oreos, Teddy Grahams, or Nutter Butters, whip up one of these refreshing and nutritious alternatives instead. These stress-free recipes just might help you keep those new year resolutions:
Cucumbers & carrots with hummus
This one's pretty simple: cut up 1/2 cucumber and 1 whole large carrot into sturdy slices, then dip into hummus. (My favorite kind of hummus is Sabra's red pepper flavor.) Use baby carrots if desired.
Cinnamon sugar oatmeal
Cook ½ to 1 whole cup of old-fashioned oats. (I usually microwave mine with almond milk. If you're an overachiever, use the stovetop—but note that this will take longer.) Let the oats cool and then season them generously with cinnamon and maple syrup. If desired, top with blueberries or sliced bananas.
Lettuce-less salad
Chop 1 whole cucumber, 1 cup cherry tomatoes, and ¼ onion into bite-sized pieces. Combine into a bowl. Season with 2 tablespoons of fresh parsley, 2 tablespoons of vinegar, 1 tablespoon of olive oil, some salt and pepper, and a bit of Mrs. Dash seasoning. Let the mixture sit in the fridge for at least 15 minutes, then enjoy!

Optional additions: broccoli, peppers, cauliflower, carrots
This bowl tastes just like summer and is perfect for people who crave the simplicity of crisp vegetables. (To some, a bowl of mixed vegetables isn't exactly a satisfying snack… so if this one isn't for you, no hard feelings!)
Garlic "bruschetta"
Grab a bag of bread toasts/baguette crackers and pull out as many as you're hungry for. Cover each bread toast in olive oil, canned tomatoes, basil, and garlic or garlic powder. I like to think of this as the "cheat version" of bruschetta as you don't have to use the oven at all: there's no need to roast the tomatoes or even toast the bread.
Avocado toast with radishes
Toast one to two slices of wheat bread and slather each piece generously in avocado. Top with salt, olive oil, and if desired, thinly sliced radishes, sweet baby peas, and fresh basil. That's it! I found this recipe online a few years ago and I love it: I have a weakness for the fresh, peppery flavor of radishes.
That's all I've got! I'm always looking for something new to eat, though, so drop your favorite vegan snacks recipes below—the simpler, the better!
---