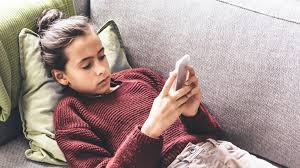 Four Free Apps that Promote Healthy Habits
By: Sawyer Cecena
It's no secret that too much screen time is a poor habit on its own. In fact, one survey found that over 80% of people worldwide claimed that they couldn't bare to go without their phones for a single day! However, there really is an app for everything these days – and that includes promoting healthier habits. When used appropriately and in moderation, these awesome (and free!) apps can help you stay on top of your health and personal goals. 
Stay Hydrated with Plant Nanny
I know I can't be the only one who's guilty of not drinking enough water. If I had it my way, a cold bottle of Mountain Dew would suffice to keep me hydrated. Plant Nanny helps you stay on track of your water intake by giving you a cute little plant to care for. You get to choose and name your plant as you please, and each time you have a glass of water your plant grows bigger. Forgetting a glass or two could mean the end for your new friend, so keeping it alive is an incentive to keep drinking. The app also sends reminders throughout the day if it's been a while since you've watered down.
Train Your Brain with Peak
Remember how much fun it was when your teachers would bust out a game amidst a sea of boring lectures? Peak is kind of like that, but there's no dress code and you can participate from the comfort of your bed. The app lets you choose areas like memory, problem solving, and word recognition to work on and then assesses just how much help you need in those areas. From there, Peak sends you a list of quick, daily games to play that will challenge these skills - and trust me, they are seriously fun! At the end of the day you can see exactly how much you've improved and compare your scores to those in the same occupation or age range. 
Keep Calm with Woebot
As someone going into the mental health field, I care a lot about the accessibility of mental health resources. I've tried many apps in the past that claim to support the user's mental health and I can say that Woebot is by far my favorite. Woebot acts like a little therapist in your pocket. The in-app character has been programmed by experts in cognitive behavioral therapy and works with you through your problems by talking you through them and allowing you to better understand and challenge your thoughts. There's even the occasional video, quiz, or game to help keep things interesting. 
Help Yourself Succeed with Habitica
This app turns your to-do list into a role-playing game with actual rewards. You begin by building a character and build them up by completing tasks you load into the game yourself. The tasks are completely customizable, so you have free reign to accomplish anything from folding your socks to kicking that nasty smoking habit. Each time you complete an achievement, your character gains stats that make it stronger and earns you points. But for each achievement you fail to meet, you will lose stats and points as well. Once you rack up enough points, you can redeem them for in-game extras like equipment and potions or real-life rewards.
---