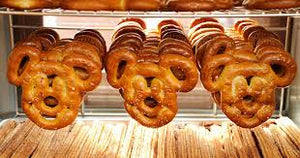 Going Vegan at Disney
By: Sawyer Cecena
A few weeks ago, my boyfriend and I took a trip to the Disneyland in Anaheim, CA to celebrate my graduation. Typically, I pack my own food on these trips because:
It saves money.

It saves time.

It can be incredibly difficult to find tasty vegan options in public.
While I still spent most of the trip lugging around a bag full of fruit and Tofurky sandwiches, I also wanted the chance to splurge a little bit given the situation – and considering that my boyfriend was a Disney virgin! It took some research and a lot of questioning on my part, but by the end of the trip I was pleasantly surprised by many of the vegan options we found throughout the parks! To save you the headache on your next Disney trip, here were some of our top vegan finds. 
The Boysen Apple Freeze from Maurice's Treats
There's nothing quite like a cold drink on a hot, California day. As you can see, this frozen apple juice drink is a personal favorite – and was even before I knew it was vegan. It contains a bit of boysenberry syrup for a unique tang and can be topped with a passion fruit foam that's similar to whipped cream – but, of course, without the dairy!
The Mickey Pretzel from The Hundreds of Pretzel Carts around the Parks!!
Also pictured above is the signature Mickey pretzel. I must admit that I felt this one was a little lackluster compared to some of the other awesome vegan treats we tried this trip. But, I'm including it because not only is it a staple for any Disney trip, but a lot of people don't know they're vegan! Just skip on the queso and load up with mustard packets on the side.

The PB&J Pizza from Goofy's Kitchen
This one is only for those with a dinner reservation at Goofy's Kitchen at the Disneyland Hotel. But, it was too good to leave off the list! It's truly exactly what it sounds like – a doughy pizza crust topped with a peanut butter and jelly swirl. It felt more like a desert than a dinner option but was still undeniably delicious.

The French Fries from The Golden Horseshoe
I know that all my fellow vegans are judging me hardcore right now for suggesting fries as a must-have food item. But, hear me out… because you haven't had these fries! They're truly the perfect potato product in every way. They're golden brown yet perfectly soft, and best of all they're not cooked in animal fat like many other fast-food style fries. 

Dole Whip from Tiki Hut
I have another confession. I'm not a huge fan of Dole Whip! But, it would be cruel not to include it on the list because it's another fan favorite! This creamy pineapple soft-serve is surprisingly dairy free and can be served plain or in the form of a float. And since I'm not eating it… that means more for you guys!
Outback Vegetable Skewer from Bengal BBQ
What could be better than grilled veggies? The contents of these skewers can change based on season, but you can munch easy knowing that all these veggies are cooked without any added animal products. Zucchini, squash, potato, onion, and bell pepper are among some of the delicious options you may find when ordering this item.

"Mars-inara" Pasta from Alien Pizza Planet
We didn't get around to this one this time, but this has always been my go-to park meal with previous visits! If you're a pasta person, you'll love the freshness of the tomato sauce over this massive bowl of spaghetti. Just make sure you ask for it without cheese on top! 
Planning on a trip to meet Mickey Mouse any time soon? Let us know in the comments which vegan treats you're excited to try!
---