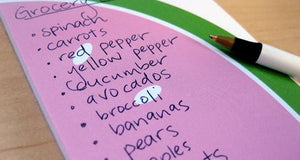 Grocery List for a Healthy New Year
By: Paige Fowler
Nearly every year for the past three years, my new year resolution has been to lose weight. I've been about twenty pounds overweight for quite some time (thank you college) and unfortunately I've done very little to manage that. Now that I've graduated and entered more or less the "real world," though, I'm becoming a lot more conscious of my health. Your early 20s are some of the most formative years for your general wellness, and the habits you make then are likely the ones you'll keep for years to come. So it's time for me to get my act together.
In an effort to get back to my seventeen-year-old, senior-summer self, I plan to lose 22 pounds by my 22nd birthday. That's about 3.5 pounds per month, which is very reasonable and very doable. I've done it before, actually, and I know I can again.
Weight loss starts in the kitchen, though, and that's where my problem lies. Despite genuinely liking to cook, I so often find myself reaching for whatever can be microwaved, air fried, or poured into a bowl the fastest. Eating this thoughtlessly always leaves me bloated, dissatisfied, and destined to return to the kitchen in two hours for more empty calories.
So in order to kickstart my lifestyle change, I searched through my phone's notes for a trusty old friend: my "healthy" grocery list. This list is chock-full of versatile, nutritious, and relatively cheap grocery items that are staples in my pantry and fridge, and I figured I'd share them for anyone who's never tried to clean up their eating and maybe doesn't know where to start. My vegan friends will be pleased to see that most of the items in this list are plant-based—but note that a few meat and dairy products are listed as I myself am not vegan.
Pantry items:
Oatmeal, granola, quinoa, chia seeds, jasmine rice, mixed/three-blend rice, popcorn, black olives (without added sodium), pretzels, almonds, hummus, pita chips, crackers, Ezekiel bread, rye bread, wheat bread, natural peanut butter, black beans, soy beans, lentils
Non-vegan items

: canned salmon, canned tuna, canned chicken
Fridge/freezer items:
Coconut milk, kiwi, strawberries, raspberries, blueberries, carrots, radishes, tomatoes, cucumber, endives, cauliflower, asparagus, spinach, broccoli, green beans, romaine lettuce, butternut squash, Brussels sprouts, peas/sweet peas, cherry tomatoes, miscellaneous steam-in-bag vegetables
Non-vegan items

: skim milk, nonfat vanilla yogurt, eggs, salmon, flounder, turkey burgers, Laura's lean beef, lean ground turkey, chicken breasts, feta cheese, gorgonzola cheese, low-fat string cheese, mozzarella cheese
Cooking oils, herbs, seasonings, and condiments:
Olive oil, coconut oil, white wine vinegar, rosemary, garlic, basil, mint, parsley, cinnamon, salt, pepper, lemon pepper, cayenne pepper, Old Bay, Mrs. Dash original, tomato basil seasoning, Montreal chicken seasoning, reduced sugar ketchup, sweet relish, Dijon mustard
That's it, guys: those are my grocery staples. What am I missing? What should I try? Any tasty and affordable vegan alternatives for some of those animal products? Comment below or tweet me (@FowlerPaigeL)—I'm always looking to try something new!
---