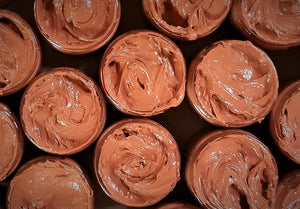 Guide to Tarabusi Creek
Guide to Tarabusi Creek
RyLee Weatherby

If you are at all involved in what is often referred to as "Small Business Twitter", then I'm sure you often see some variation of the question "What should I order from Tarabusi Creek?" With so many people asking, I figured it would be helpful to create a guide that answers just that! I've divided the guide by skin type to make it easier to locate the products that will work best for your individual needs. These recommendations are based on my own experience as well as the feedback from other customers, but I cannot guarantee what works for some will work for all! These are simply suggestions.
Dry Skin
The main concern for those with dry skin is, of course, restoring moisture. Some face masks that are great for providing moisture are the Spill the Tea mask, which soothes and purifies the skin, and the Mary's Clay mask, which contains oils to nourish the skin. When struggling with dry skin, it is also important to exfoliate in order to remove dry, rough patches in the skin. However, you don't want to over exfoliate and risk irritation, so the Sweet Apple and Fairy Garden scrubs are perfect because they are gentle and the added shea butter provide extra moisture.
Oily Skin
If you are on the other end of the spectrum and dealing with oily skin, you'll want to focus on products that remove excess oils and balance impurities. The Sugar Cookie and Ocean Mist Masks are great for sucking out the bad oils from your pores without drying out or irritating the skin. The Phoenix Scrub, which contains lava salt, provides a deep and gritty exfoliation to cleanse the pores. The Paradise soap can be used as a face wash, and contains activated charcoal which acts a magnet to remove impurities.
Sensitive Skin
If you have extremely sensitive skin, you may want to be more careful of which products you use, but you don't need to avoid Tarabusi altogether! The Fairy Garden scrub is gentle enough to exfoliate the skin without irritating it, and has a light scent that is not too overpowering. The Spill the Tea Mask is gentle enough to use frequently without risk of irritation, and is great for soothing the skin. One product that you may want to avoid is the Sugar Cookie Mask, as some customers have said the clays which are meant to provide a detox of the skin are too strong for sensitive or inflamed skin. They do offer a milder version, but I would proceed with caution when using this particular product.
Tarabusi truly does have a product for everyone! It can often be overwhelming when faced with a variety of products to choose from, so I hope that this guide will be helpful during the next restock!
---
1 comment