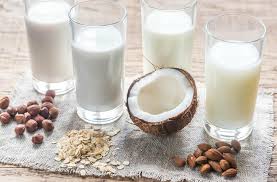 How to Choose the Best Plant-Milks
By: Sawyer Cecena
One of the hardest things for me to give up when first going vegan was milk. Although it seems strange now – and super gross! – I used to drink a glass or two of milk every single day. Of course, that's not exactly the norm. But milk is still an extremely common ingredient in other daily favorites like coffee, ice cream, and cereals. Luckily, there are several different dairy-free milk alternatives to choose from. Check out this guide for a rundown on the most common milk substitutes, and let us know which ones you prefer!
Almond Milk
A personal favorite, this milk substitute is made by mixing small almond crumbles with water. This simple process is why many prefer to make their own almond milk at home. For the less adventurous, this alternative is also one of the more widely available in-store offerings and runs fairly cheap. Almond milk also contains anti-inflammatory properties which makes it easier to digest than cows' milk for many people. Due to its sweeter nature, almond milk is best in things like cereals, smoothies, and coffees.
Soy Milk
Soy milk is another popular choice for several reasons. It's also one of the easiest alternatives to buy at your local store, especially if you're on a budget. Soy is also a great source of protein, fatty acids, and is safe from many major allergens. However, drinking too much soy milk can also affect our bodies' natural estrogen production – so be careful not to overdo it! Soy milk doesn't have as much flavor as the others, so it's pretty versatile and can be a great addition to baked goods, oatmeal, and dressings.
Coconut Milk
Similarly to almond milk, this sweet drink is made by soaking the meat of the coconut in water. Not to be confused with coconut water, which is a liquid that comes from inside the coconut itself. It's typically much sweeter and has a higher fat content than other milk alternatives. So, it can be quite calorie heavy if drank straight. But, that's exactly what makes this the perfect addition to ice creams, milkshakes, puddings, and other sweet treats.
Flax Milk
Flaxseed is a staple in any vegan kitchen. When mixed with water and allowed to sit, it makes a great egg substitute in baked goods. Another great use for flaxseed is to derive the oils from the seeds to make a milk alternative that's very similar in taste and texture to that of cow's milk. Flax is also chalk-full of several essential vitamins including B-12, Vitamin D, and Vitamin A. If you're looking for one to drink straight out of the glass, this is probably your best bet!
Rice Milk
This milk is made from brown rice and is about as flavorless as it gets. Which makes it a great choice for mixing in added flavors to create something special. Of course, the most popular use for rice milk is probably horchata – a Mexican drink using rice milk, cinnamon, and sugar. It's also great to use with chocolatey recipes to get that mild crisp of a Crunch bar.
---