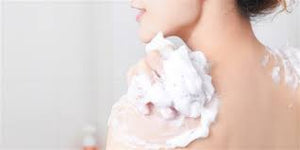 How to Help Relieve Body Acne
By: Sawyer Cecena
Acne is always annoying, but especially when it's not limited to your face. While everyone gets body acne from time to time, it can be difficult to deal with when you're trying to cool off and show some extra skin in this summer weather. If you're struggling with body breakouts, here are five tips to help you prevent those pesky pimples. 
Soak Your Sheets!
Be honest – when's the last time you gave your bedding a good wash? The experts say to do it at least bi-weekly to get rid of all the dirt, oils, and grime that are transferred from our skin to our sheets every night. But, if you're suffering from body acne it may do you good to wash your bedding more often. If that seems too time consuming, try grabbing an extra set of bedding to swap out weekly instead!  
Start Scrubbing.
Your current body wash may not be enough to keep you safe from breakouts, especially if you're super active or sweat a lot. Body scrubs can be a great way to exfoliate and get your skin extra clean in the shower. Just rub the product onto damp skin before you wash with your normal soap – and make sure you scrub gently! Scrubbing too hard may cause redness and make inflammation worse. 
Change Your Clothes.
I know I'm super guilty of staying in the same pair of PJ's for a couple nights when I don't have to leave the house. While this may be comfortable and save time on laundry, it's super bad for your skin! Changing into clean clothes every night (or after a workout or a hot day!) ensures you're not loading up your pores with excess bacteria that causes pimples. 
Pick Your Products Wisely!
Soap is soap, but if you're looking to zap your zits you'll need something that's designed to do so. Look for ingredients like salicylic acid, lactic acid, and glycolic acid next time you're bagging a new body wash. These are all great for unblocking pores and removing spots. If you've got a particularly bad breakout, you may also want to look into additional topical treatments to use post-rinse. Most treatments can be bought over-the-counter and will help kill of acne causing bacteria before it has time to sit on your skin.
Make a Date with the Dermatologist.
If all else fails, there is nothing wrong with seeking professional help for your skin problems! Sometimes there are more serious reasons behind our breakouts like hormones or genetics that are best handled by a professional. A specialist may also be able to subscribe other topical or oral treatment that are stronger than those available over the counter.
---