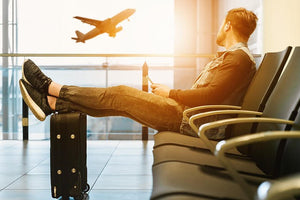 How to Pack For a Last Minute Vacation
By: Nicole Pyles
Nicole Pyles is a writer living in the Pacific Northwest. She currently works as a Blog Tour Manager for WOW! Women on Writing. Her writing has been featured in WOW! Women on Writing, Ripley's Believe it or Not, The Voices Project, and Restless Magazine. You can follow her on Twitter @BeingTheWriter.
Sometimes, no matter how well you plan, you run out of time to pack. Maybe it's a trip you booked Thursday afternoon for that weekend, or maybe you just hate packing and you're a chronic late packer. Either way, packing last minute is possible no matter the circumstances, but you need to consider these tips to be sure you don't miss a thing.
1. Make a list of what you need.
While you may have a desperate urge to toss things in a luggage and go, what will make you lose even more time is forgetting something you need and having to go back for it (or wasting money on having to buy it later). So make a list of what you need and make special note of travel documents such as your passport, boarding pass, and other proper identification. Make sure you have that extra cash for cab fare or you have downloaded the app for a car share service such as Uber. Also, make a list of necessary wardrobe items. If you are going to an event, ensure you have the proper attire. Also, don't forget to make a list of items you'll definitely need like toothbrush, toothpaste, an extra pillow, and anything else in between. 
2. Pack for the weather.
Whatever it looks like outside your window, that weather may not be happening wherever you are going. So check the weather and if you are looking at rain, or warmer temperatures, or even snow, pack accordingly. The last thing you want is a bunch of sweaters when it's 80 or 90 degrees by the beach.
3) Take more of what you'll need.
You probably won't need all seven outfits with five alternates, but it wouldn't hurt to bring an extra pair of shoes, extra socks, and extra underpants. If you are concerned about being a messy eater and don't want to worry about laundry machines during your vacation, pack an extra top with the same color scheme as a top of choice. Better yet, pack with a color scheme in mind so you can mix and match outfits to better expand your wardrobe for your vacation.
4) Keep necessary documents and travel tickets separate and obvious from your other packing needs.
When you get into the cab or show up at the train station or airport, you don't want to hunt around for your tickets, or cab fare, or other necessary travel documents. Keep those things obvious and in a convenient place for you to find at the airport. While you are packing, keep them separate from the hustle and bustle of putting stuff together so you don't accidentally lose things.
5) Use special packing techniques.
One important packing tip is when you are packing clothes - roll them. Folding just ends up taking way more space. Rolling is a sure way of gaining more space in your luggage and reducing the amount of wrinkles in your clothes. Another tip is to use your shoes for packing smaller items such as your toothbrush, toothpaste, extra socks, and other travel sized items that can get lost inside a large piece of luggage. 
With these tips, hopefully you are now more prepared than ever for your vacation. Now go get 'em, jetsetter.
---