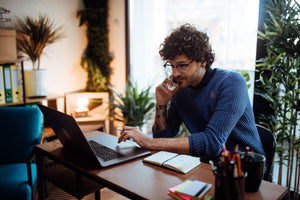 How to Stay Productive While Stuck Inside 
By: Sarah Dailey
Changing your routine can be difficult, especially if it is sudden and forced, like many of us are during the era of the coronavirus. Usually we have a few weeks to readjust to going back to school or starting a new position at work. Unfortunately, most of us have been abruptly reassigned to working at home. These tips will help those of us trying to stay productive when laying in bed is as tempting as ever. 
1) Make a schedule 
Having a clear idea of what you want your day to consist of is extremely important. This will eliminate any time sitting in bed trying to decide what to do. Instead, you can wake up and get right to work. I like to make my plan for the day when I wake up, but you can also do it the night before. Having a clear set of goals throughout the day of tasks you want to accomplish is a good start to getting up and at it.
2) Make to-do lists 
Most people already have to-do lists, but it's a classic tool that proves to be useful, and will definitely help curate the schedule mentioned above. One thing to amp up your lists is creating ranks. These could be "must do, do if possible, and do later." Before you plan your day, write down the tasks you have to or want to complete, then work your schedule around them. 
3) Make a work space 
There are endless studies warning against working in your bed or couch. Doing homework or work for your job in the place you relax can confuse your brain and make it hard to sleep at night. Some people already have a desk/workspace, but if you don't, it is very important to find one. If ordering one online is not an option, a dining table could work. Dedicating a space that will help you separate your brain's boundaries will also help keep you on focus.
4) Reward yourself 
Most importantly, reward yourself. Working from home is a change, and it can take a lot more motivation than going to work or class as normal. Take breaks after each task you complete and treat yourself with a snack or phone time. If the weather is nice, taking a short walk can reset your mind for the next set of tasks. 
I hope these tips will help anyone in a procrastination rut. Try different things each day until you find a routine that works for you. We got this!
---