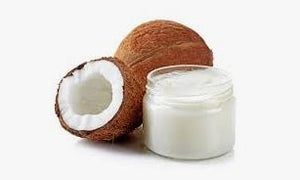 Pro's for Coconut Oil Usage
By: Sarah Dailey
I'm sure everyone has heard "try coconut oil!" in response to some issue. Is coconut oil really this versatile and useful? While there are many things that coconut oil will help and some that it won't, below is a short list I've compiled of my favorite ways to use coconut oil in my day to day life.
Makeup Remover
I just scoop a little in my fingers, rub it together to melt it, and spread it into my face like any other cleanser! This is a great method to use to remove waterproof mascara. (Make sure to completely remove once you're finished, as coconut oil is comedogenic, meaning it does tend to block pores.)
Shaving Cream Replacement
I ditched shaving cream for good once I tried this trick. Your skin will be so soft, and it doesn't build up on the razor meaning you can actually see where you're shaving! However, be careful, as this can make the shower rather slippery.
Body Moisturizer
Rubbing coconut oil on right after a shower will lock in moisture and sinks in fast, leaving behind no greasy or weird feeling that some lotions can.
Makeup Brush Cleaner
Instead of dropping your hard earned coin on brush cleaner, just use coconut oil! Like mentioned in the first tip, it will break down any makeup in the bristles. Just make sure to rinse well so there is no remaining residue once dried.
All coconut oil, no matter what brand, should be exactly the same. I personally get mine from the Dollar Tree.You don't need to splurge to get a multipurpose item!
Leave a comment if you tried any of these or if you have any other suggestions.
---