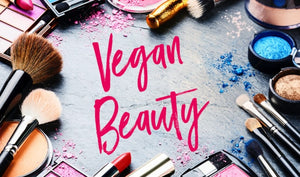 The Best Vegan Beauty Bloggers to Subscribe To
Living a truly vegan lifestyle is much more than just not eating animal products. It also means being conscious of other ways our actions affect animals and the environment as a whole.
Unfortunately, many industries utilize animal labor (or worse, the animals themselves) in order to produce their products. One such industry is the beauty industry. Many big name brands test their products on animals, which means that the animals are the ones that have to endure any adverse side effects. As many of us know and loathe, many of the reasons for this stem from China's requirements to sell cosmetics. Even if they may not test on animals in the United States or Europe, if the brand chooses to sell in China or many other Asian markets, the unfortunate baggage of animal testing comes along.
The good news is that there are more and more vegan brands coming into the market every single day. You just have to know where to look for them. For me, personally, I've learned a ton about the vegan beauty world through YouTube. 
Check out these vegan, cruelty-free beauty gurus for advice on how best to go vegan and cruelty-free with your beauty products!
Kristen Leanne
Kristen Leanne is one of YouTube's most popular beauty mavens. Since 2014, she has made a career out of reviewing cruelty-free vegan brands on her channel. In 2017, Kristen co-launched Arctic Fox, a vegan hair color line that never, ever tests on animals! 
Eco-Vegan Gal
Eco-Vegan Gal might not be as flashy as your average beauty YouTuber, but she holds a wealth of knowledge about integrating vegan concepts into every area of your life. She focuses less on makeup and more on things like naturally boosting your collagen production and vegan oral care. 
Christine Kobzeff
If you like uber-modern, fantastically lit vlogs and tutorials featuring everything from yummy vegan recipes to vegan makeup brands, than Christine Kobzeff's channel is probably for you. In addition to all of those wonderful things, Christine also has content for the DIY decor enthusiasts. 
Jasmine Rose 
Jasmine Rose's channel focuses on all things natural. Natural curls. Natural makeup looks. From her hair care to her makeup, she doesn't use anything that has been tested on animals. The best part is that she also seeks out cruelty-free clothing lines as well. Since joining YouTube in 2011, she's garnered nearly 100 thousand subscribers! 
Teri Miyahira
Last, but certainly not least, is Teri Miyahira. She reviews vegan makeup brands, focusing mostly on vegan beauty boxes. She even has her own line! And even if makeup isn't your thing, Teri also has a vegan handbag line in the works! 
These are just a few of my favorite vegan, cruelty-free YouTube beauty gurus. (Try saying that five times fast!) Have anyone to add? Shout them out in the comment section below! 
---