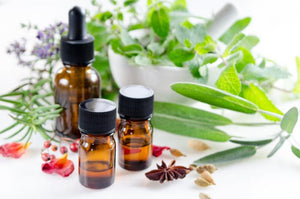 The Do's and Don'ts of Essential Oils for Pet Owners
By: Sawyer Cecena
You may have come across the horror stories that have been circulating the Internet about pets who have faced serious illness after being exposed to essential oils. If you haven't (and now you're totally freaking out!), don't go throwing away that oil diffuser just yet. While it is true that some essential oils can harm your pets, there are still a number of essential oils that are 100% safe to use with Fluffy or Fido around. In fact, there are even a few that can actually benefit the health and well-being of your fur babies. So, for those of you concerned about your animal's well-being, here's a rundown of what you should know about mixing essential oils with your four-legged, two-legged, feathery, or scaly friends!
Whether it's a Chihuahua or a Great Dane, dog owners have a wide range of safe essential oils to choose from.
The following oils have all been cleared for safety around pups:
Chamomile

Frankincense

Cedarwood

Lemon

Lavender

Clary Sage

Peppermint

Ginger

Geranium
Oils that are unsafe to use around dogs include:
Melaleuca

Birch

Camphor

Yarrow

Wintergreen

Juniper

Thyme

Horseradish

Garlic

Clove

Anise
Cats, on the other hand, are more sensitive creatures and are limited in which oils they can be around. Cat owners are urged to avoid the following oils at all costs:
Citrus

Grapefruit

Lemon

Lime

Oregano

Orange

Tangerine

Clove

Wintergreen

Birch

Thyme

Tea Tree

Cinnamon

Fennel

Melaleuca

Nutmeg

Peppermint

Rosemary

Spearmint.
But, if any of these are in your collection, they are all good to go:
Sweet Basil

Chamomile

Myrrh

Lavender

Carrot Seed

Helichrysum

Cedarwood

Geranium
There is a lot less research available on how essential oils affect less common pets, so unfortunately information is sparse regarding what oils are safe to use. However, we do have limited information on what oils should definitely be avoided.
Bird owners need to stay away from:
Cinnamon

Birch

Citronella

Cedarwood

Pine

Melaleuca

Arborvitae

Tuja Plicata

Thyme

Oregano
If you have a pocket pet, such as a guinea pig, hamster, or chinchilla, steer clear of:
Cinnamon

Cassia

Oregano

Lemon

Lime
Reptiles like snakes and lizards need to be kept away from:
Tea Tree

Orange

Lemon

Lime

Grapefruit

Tangerine

Any Other Citrus Oils
If aquatic animals are more your speed, you're in luck. As of now, the general consensus is that your fishes and snails are safe, so long as a lid is kept on the tank and the oils are not used in close proximity.
Regardless of whether the oils you're using are safe or not, The American Veterinary Medical Association
still has some warnings
for pet owners. Essential oils should always be used in moderation, and it's best to speak with your veterinarian before using any oils in your home. They also urge pet owners to avoid purchasing low-grade essential oils all together, to never allow the oils near your pets' face, and to only use the oils when a supervising human is present. Pet owners can also benefit from being aware of signs of poisoning in their pet, which can include shaking, seizures, heavy breathing, and upset stomach.  
---