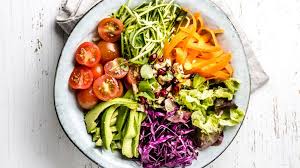 Tips for an Anti-Inflammatory Vegan Diet
By: Sawyer Cecena
One of the biggest misconceptions about vegans is that we're all super health conscious. While this may be true for some, there are plenty who change their diet for other reasons such as ethics or spirituality. When I initially went vegan, health was not my main concern – and it showed by how I shamelessly snacked on Oreos and potato chips like my life depended on it. But after being diagnosed with an endocrine disorder that caused extremely painful inflammation in my body, I knew I had to sacrifice my snacks and make some additional alterations in my eating habits. Here are some tips I've gathered over the years that have helped me (mostly!) successfully stay on an anti-inflammatory vegan diet. 
Learn Your Triggers
There are certain foods that naturally cause more inflammation than others. In general, stuff high in sugar and artificial trans fats are the biggest bloaters – think fries, doughnuts, and sodas. Alcohol, vegetable oils, and refined carbs such as pasta and bagels also have a reputation for being irritating. However, everybody's bodies can still react differently. So, while these may be great places to begin narrowing your diet, it's important to get an understanding of how what you eat affects you personally. 
Fight the Inflammation
Likewise, there are also foods that are known to have anti-inflammatory properties all on their own. Foods high in lycopene, oleocanthal, anthocyanins, sulforaphane, and other antioxidants are your best shot for some comfort if you're at a loss of that to eat. These include broccoli, cherries, tomatoes, dark chocolate, and even olive oil among many others! While no one thing will work for everybody, adding these inflammation busting choices to your regular diet can be the first step to a significant difference.
Drink Up 
Obviously, water is the best thing for you no matter what. But, if you're looking for something with a little more excitement, all hope is not lost. Although I'm not personally a fan, peppermint and green teas have been known to help with the bloating, nausea, and gas that often comes with chronic inflammation. Some fruit juices such as pineapple, lemon, and cherry can also help with swelling and improve digestive issues.
Search for Substitutions
I know firsthand how hard it can be to get your butt in the kitchen when you're nauseous and in pain. But, when I'm feeling up to it, I love trying to find creative ways to replicate my old favorite foods in a healthier way. Slices of russet potatoes baked with olive oil have become my french fry and potato chip replacement, and these dairy free cones from Magnum are a less irritating way to kick an occasional ice cream fix. 
---