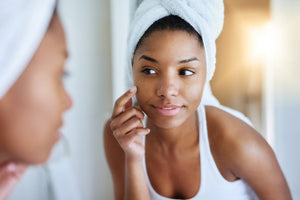 What Type of Skin Do You Have?
By: Genevieve Glynn-Reaves 
By now we've all worked out that skincare is important. If you want your skin to look great, you're going to have to take care of it. However, with so many products to choose between, how are we supposed to know which range is right for us?

There are three different skin types that you might belong to; dry skin, oily skin, and combination skin. It's actually a pretty simple process to work out which one best fits you. 
First you need to prep your skin. Make sure that you've removed any traces of make-up or product that might be left on your skin. You can do this using a make-up remover or face wash. It's important to know what your skin is like when it's not being affected by anything else. Be careful only to use gentle face washes and not to clean your skin too often as this can strip your skin of its natural oils.           
Then, leave your skin alone for an hour. Resist the temptation to apply moisturizer or any other products that you would usually put on your skin after washing. We need your skin to be completely untouched.
An hour later, you are going to need to grab a piece of tissue. Gently dab the tissue against your face, focusing particularly on your T-Zone or areas you find you are more prone to spots. Your T-Zone is the area above your eyebrows, all the way up to your hairline and then also down your nose.
Look at the tissue and see if there if there is any oil that has rubbed off your face. If there is any oil, you don't have dry skin, but you might have either combination skin or oily skin.
Touch your skin to see how it feels. If your skin feels taut, it is likely that you have dry skin. You might also feel itchy or sore. If your skin was oily in the T-Zone but also feels taut on your cheeks, you probably have combination skin.
Now, have a look in the mirror. If you have dry skin, you might have dry, flaky patches. You will also not have visible pores. If you have oily skin, it will be shiny all over and you will have large, visible pores. If your skin has a mix of these traits, you probably have combination skin.
Hopefully now you've been able to work out what type of skin you have. Now all you need to do is make sure that you're looking for products that are tailored for your skin type. Remember, it's best to cleanse, tone, and then moisturize as part of your daily skin routine!
---